Peter Odemwingie is a player who will almost always conjure up one image in football fans, one overriding memory above all else: He will always epitomise the madness of deadline day, having driven 120 miles from West Brom to London to secure his transfer to Queens Park Rangers.
He didn't want to be late and got to Loftus Road in good time. Of course, the media were there and he was pictured going into the ground. He even signed a few autographs while he waited for the deal to be struck.
Sadly, for him at least, the deal was never struck and in a few hours, he became forever remembered as the player who appeared to force a move and failed. He went back to West Brom with his tail between his legs, got a fine and a suspension before eventually moving to Cardiff City.
That is perhaps the start and the end of most fans' recollections of the player. He plied his trade for West Brom at a time when they were in the Premier League, something no longer the case. The Baggies are amongst the favourites for a top-flight return in the odds this season, but when Odemwingie played for them, they were in exclusive company amongst England's elite clubs.
That fact makes it more remarkable that he had the record he did and that he isn't remembered more fondly by football aficionados up and down the country. He might have had egg on his face one deadline day, but he often had a big smile facing front as he banged in the goals for the Albion.
The Nigerian joined the West Midlands outfit from Lokomotiv Moscow in 2010, on the back of 23 goals in 80 appearances for the Russians. Although he was 29 years old, he still cost in the region of £5m. It seemed risky business by the Baggies, but the gamble paid off.
After one training session, he got his first chance in the side and found the net within minutes of coming on for Roberto di Matteo's side. Just a week or two later he bagged another as West Brom beat Arsenal away for the first time in just under three decades. Odemwingie had arrived.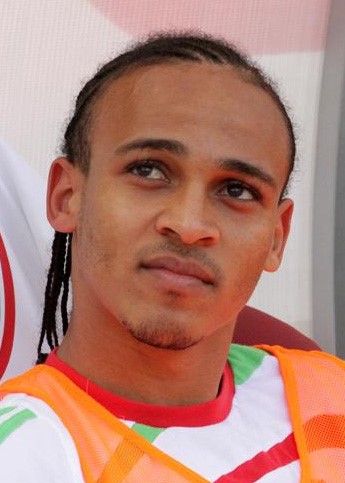 Peter Odemwingie - By Yelena Rybakova (CC BY-SA 3.0)
In total, he scored 15 goals in his first season, beating Robert Earnshaw's previous best for West Brom in the Premier League. In his second season as a Baggie he scored 11, including a three-goal salvo against local rivals Wolves. It was enough for the fans to take him to their hearts, something that nothing could affect.
Nothing except a late-night drive to Loftus Road.
He only scored five in his final season at the Hawthorns before a move to Cardiff and later Stoke City. He impressed with the latter, scoring five in 15 outings, but found his chances increasingly limited as his career wound down.
Now, the Nigerian striker is known mainly for that rash decision to rush to London hoping things would pan out for him, but Baggies fans would do well to remember the player he was, not the situation he found himself in.