The draw for the 2022 WAFU Zone B U17 Cup of Nations was made in Republic of Niger on Friday, April 15, 2022.
Nigeria will be taking part in the tourney and have been drawn in the same group as Ghana in Group A and face Togo in their other group game, while Ivory Coast, Benin, Burkina Faso and Niger make up Group B.
Only two countries will qualify for the final tournament, the 2023 U17 AFCON, which will be staged in Algeria.
The governing body of West African Football, WAFU, has selected Ghana as the hosts for the zonal U17 AFCON, from June 11 to June 24, 2022.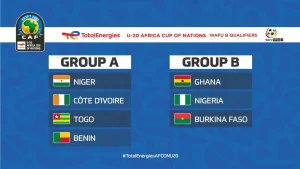 Former Nigeria U16 captain Nduka Ugbade will be coaching the Golden Eaglets at the WAFU Zone B U17 AFCON and will be assisted by Ahmad Lawal Dankoli (assistant coach), Omoniyi Haruna Ilerika (assistant coach), Yemi Daniel (assistant coach) and Mohammed Nasiru Isah (goalkeepers trainer).
Nigeria have been pitted with Ghana in Group B of the West B Zone(WAFU-UFOA B) qualifiers for the 2023 U20 Africa Cup of Nations, with Burkina Faso completing the group.
Group A sees Niger, Ivory Coast, Togo and Benin lock horns during the tournament in Niamey, which begins on May 7 and ends May 20.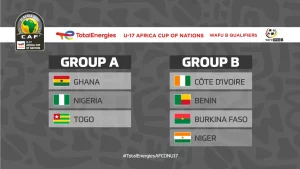 Ladan Bosso was recently confirmed as coach of the Flying Eagles and he'll work with Fatai Amao (assistant coach); Oladuni Oyekale (assistant coach), Jolomi Atune Alli (assistant coach) and Baruwa Olatunji Abideen (goalkeepers' trainer).