The recent goalkeeping blunders has not just been a thing of concern for the fans but also the ex-internationals who believed we should be doing better in that area.
In our last two friendly games, the coach has used 3 goalkeepers and two of the goals conceded can be attributed to their incompetencies.
Against Algeria Team B on Friday, one cannot say what was going on in the mind of Maduka Okoye who practically gave the Algerians the lead when he got caught by the striker in his six yard box romancing the ball, trust Nigerians to react well on that.
Just yesterday against the Algerian main team, Francis Uzoho who was the goalkeeper on duty has been singlehandedly blamed for the Eagles 2-1 fall to Algeria.
Watch Algeria's second goal against Nigeria
Its was obviously his fault if one is to be honest and from the results the goalkeeping department has produced in recent time, Nigerians believed that department has caused us a lot. From losing a place in the quarterfinal of the last AFCON down to losing the World Cup ticket to Ghana.
Of a truth its not been the best of times for our goalkeepers especially since Karl Ikeme was forced to retirement by acute leukaemia.
Reacting to the current situation on ground is former Super Eagles goalkeeper, Dele Aiyenugba.
Aiyenugba in an exclusive interview with Nigeriasoccernet.com explained the situation surrounding the goalkeeping department at the moment while also suggesting a lasting solution to the whole thing.
"First let me correct the impression that the goalkeeper caused us a place in the world cup. Its not the goalkeeper alone because we had 10 players on the pitch with him as well as the players on the bench. You know football is not one person game, its a team sport."
"About the goalkeeping, there is no problem, they just need to look for a number one in the team. You need to have a number one, you don't need to be changing goalkeepers.
"I could remember there was a Nations Cup they played, Uzoho kept, Daniel Akpeyi kept and Ezenwa, can you check that out, you need you have your number one, and even if your number one make a mistake you still need to encourage him. Make him have the boldness in the team because if he makes mistake you change him for another goalkeeper and if that one as well make a mistake you still change him for another one and you allowing the trends continue that way won't help matters as they will have no confidence in themselves.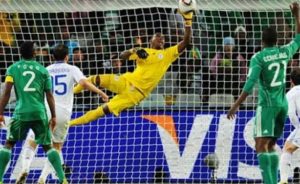 Vincent Enyeama
Daniel Akpeyi during his time in the Super Eagles was not the number one but was always ready when called upon to represent and speaking on the healthy competition in the department between himself, Vincent Enyeama and Austin Ejide during their time, Aiyenugba has this to say:
"Let there be spirit of competition in the goalkeeping department but stick to your number one and let the goalkeepers also support each other because that was how me and Ejide did then. You know Vincent was number one but we gave him pressure that if you drop your number, we're ready to pick it up so everyone was on their toes. I hope they can make the decision to have a number one in the team.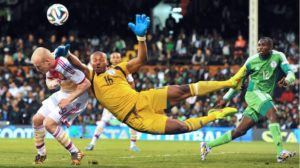 Austin Ejide
Remember Aiyenugba just like the others during his time started from the local scene and when asked if its time to risk it all in the goalkeeping department by trusting the home based goalkeepers with the number one spot, Aiyenugba said:
"The thing is that everyone one of us starts from home base. Vincent starts from home base and I could remember when Vincent started we had Ike there and he learned from Ike Shorunmu and from there became number one.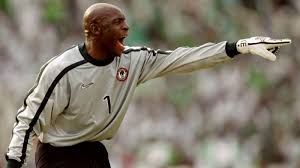 Ike Shorunmu
"The same thing when I got there. Vincent was there already and Ejide so I learnt a lot from them and what we have now is, I think the home based too need to learn from the foreign ones, take something from them to their team, keep improving themselves because they can't just go there without the needed top level experience.
"You see now John Noble was there before but he is no longer been invited and it shouldn't be that way.
"They are giving the home based the chance but they need to step up their game, work on themselves, improve because once you're there, nobody wants to see you go down because they want to see you always at your best."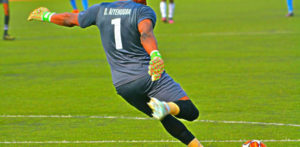 Dele Aiyenugba currently with CAF Confederation Cup campaigner Kwara United and during his time in the national team had to contest for the number one spot against Enyeama but was always on alert and also produces magical moments whenever given the chance to start in goal for the team.
Aiyenugba started professionally with Kwara Stars in 1998 before joining Enyimba in 2001.
He also played for Bnei Yehuda, Hapoel Ashkelon, Hapoel Iksal and Hapoel Afula all in Israel.
By Oluwayemi Omolagba