The Super Eagles will head into Saturday's Group D clash against Croatia as the underdogs at least going by their not-too-impressive showings in their last three games against Democratic Republic of Congo, England and Czech Republic. Gernot Rohr's men were completely outplayed in the first half of their 2-1 friendly defeat against England. Though they improved after the break, they were lucky not to have conceded more than two goals in that half. Against Czech Republic, they were poor all through and their unimpressive build-up has lowered expectations ahead of the game. But the Super Eagles have done well mostly when they have their backs against the wall in the past and will draw from that never-say-die 'Nigerian Spirit' which has propelled Nigerian teams and athletes to achieve the unthinkable
FAIR RECORD AGAINST EUROPEAN TEAMS The Super Eagles have a fair record against European teams at the World Cup. They have met 11 times and have recorded five wins, five losses and one draw. They have also  faced European teams twice in their opening fixtures at the World Cup and won both. The West Africans defeated Bulgaria 3-0  in their debut game at the mundial in USA'94 and recorded a 3-2 win against Spain four years later in France. Also, all of Nigeria's World Cup wins have been against European teams
CROATIA'S POOR OPENING DAY RECORD The Croats have lost their last three opening games at the World Cup, which could have a  psychological effect on them. They have also managed to score once in the three games. They lost 1-0 against Mexico in Korea/Japan 2002, 1-0 to Brazil in Germany 2006 and 3-1 to the Brazilians four years ago.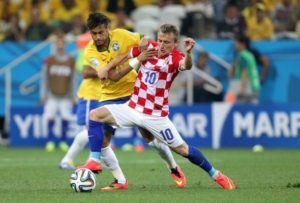 THE SUPER EAGLES HAVE TURNED THE CORNER IN THE PAST Prior to their debut appearance at the World Cup in United States of America in 1994, the Super Eagles lost to Sweden and Romania in their main friendlies  before the finals but put that aside to record an impressive outing at the competition. The team, then led by Dutchman Clemens Westerhof, were close to eliminating Italy in the second round before going down to a 2-1 defeat and were later voted the second most entertaining side of the competition behind champions Brazil. History repeated itself four years later with Bora Mulitovic-led team losing all three pre-World Cup friendlies against against Germany (1-0), Yugoslavia( 3-0) and Netherlands (5-1). But they wowed the whole world by edging out a star-studded Spain 3-2 in their opening France '98 game. Spain then that paraded the likes of Raul Gonzalez, Fernando Hiero, Luis Enrique.
CAMARADERIE IN CAMP AND GOOD PREPARATION Close followers of the team will agree that this is one of the best preparations this team have had ahead of a major competition in recent time. A well laid out programme from Uyo to Port Harcourt and later Austria devoid of usual fights over bonuses and allowances will no doubt work in the team's favour. There is also unity in the team's camp and the players have bonded well too.