Ahead of their crucial NNL outstanding game against Bendel Insurance, captain of Gateway United of Abeokuta, Oronsaye James has fired back at Insurance camp, Nigeriasoccernet.com can report.
Recall that yesterday, Bendel Insurance defender Tanimu Benjamin said his team will bury Gateway United at the Samuel Ogbemudia Stadium come Wednesday.
Both teams are in contention for the sole Group B1 NPFL ticket and the outcome of Wednesday's game will go a long way in determining where the pendulum would swing.
"We're prepared for the match and we are going 100% not even 90% for this match," Oronsaye told Nigeriasoccernet.com.
"We're going to bring them down and we're going to win them.
"By God's grace we are 100% fit and we are going there for the win."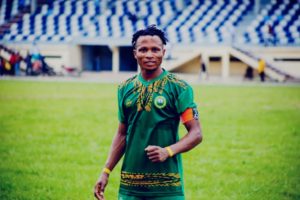 Talking about Gateway United's chances of clinching the premier league ticket, Oronsaye said:
"I believe its still possible, we can still go to the premier league. When we tomorrow's match, they will be leading us with one point and by the time we win our next away match then we'll be in the NPFL already.
"I know that we're winning. I trust my boys, I trust my players. We're winning tomorrow's match."
Oronsaye concluded by saying the spirit in the camp his high and the government has given his side all the needed supports to achieve their target.
Bendel Insurance will host Gateway United in one of the rescheduled NNL games at the Samuel Ogbemudia Stadium on Wednesday, and with 4 points currently separating the former from the latter, a win for Insurance on Wednesday will put them in pole position to pick the NPFL ticket as they will be needing just one point out of possible 9 to cement their place.
On the other hand, Gateway need to beat Insurance in Benin to reduce them gap to just a point which will then take the battle to the final match day.