It is always fascinating listening to players tell you how they fought hard to get to where they are in their careers.
The hard work, sacrifices and the revelations make for a good listen. Always.
One player whose emergence makes an interesting read is Sunday Akinmoladun, the giant centre-back for Ilorin-based Nigeria Professional Football League (NPFL) side, Kwara United.
An old-fashioned centre-back, Akinmoladun is built like a tank. An intimidating proper physical specimen but a gentle giant on the pitch.
He first became a player of interest in an NPFL game a year ago when Niger Tornadoes took on Plateau United.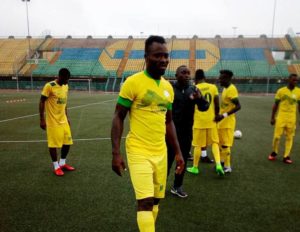 Akinmoladun lined up alongside James Iko in the heart of the Tornadoes defence and put up a virtuoso performance that caught the eye of many as the Minna side ran out 1-0 winners.
Not that it was the first time he was posting a man of the match performance.
Akinmoladun's rise to the top makes for a very compelling story.
He grew up in Kaduna where he started playing grassroots football as a schoolboy.
This is where it gets interesting.
A typical African kid playing football is always faced with two challenges. The twin challenge of learning the basics of playing football and that of meeting the school curriculum.
But Akinmoladun had three.
His parents insisted he had to go to school and also learn a trade while he wanted to play football. He had to find a way to juggle all three.
Welding was his choice of vocation. He fell in love with welding and had to enrol as an apprentice at a welding shop in Kaduna.
"My life was hard, very hard but it has toughened me to be who I am today," Akinmoladun told npfl.ng.
"I wanted to play football and then I fell in love with welding and there was the added pressure from my parents to go to school.
"It wasn't easy at all. I had to make a lot of sacrifices."
Sacrifices meant he had to go to school in the morning, then down to the welding shop before ending the day in the football fields of Kaduna to hone his football skills.
That didn't sit down well with his boss at the welding shop and his parents weren't sure he was on the right part too.
"To be honest I loved doing all of those things and I don't blame any of them for feeling the way they did," the former Kaduna United defender rationalised.