The Interim Management Committee (IMC) of the Nigeria Premier Football League, NPFL has sanctioned Shooting Stars Sports Club (3SC) for the inappropriate act of one of their fans in their match day 9 encounter against Akwa United on Sunday, Nigeriasoccernet.com can report.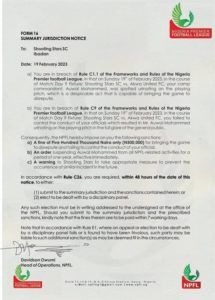 The IMC in a letter signed by the Chief Operating Officer, Davidson Owumi informed the Ibadan based club of their breach of  framework C.1.1 and framework C9 of the league.
The  first mentioned framework finds the club's commandant, Auwal Mohammed culpable for urinating on the pitch before the commencement of the match; an act considered to bring the game to disrepute.
Besides, the club was also found wanting for not doing the needful to curb such act by the club's commandant which was done in the public glare.
Hence, the club was fined the sum of #500,000 naira and a one year suspension was given to Auwal Mohammed from league matches. Besides, the committee ruled that the club should ensure such an act does not happen again.
Shooting Stars have 48 hours to submit the summary jurisdiction and of the above sanction or elect to face a disciplinary panel.
Uche Dozie