At the 93rd State Executive Council Meeting, Governor Diri Duoye of Bayelsa State has rewarded Bayelsa Queens with cash gifts.
The Governor gave the girls and the coaching staff the sum of 22 million naira for their third place achievement at the just concluded CAF Women's Champions League.
Senator Diri during the ceremony gave cash prizes to the girls, coaching crew and promised that the state will write off all medical expenses incured by the team.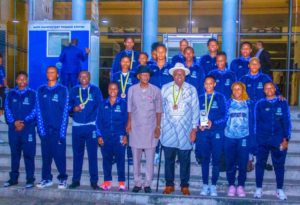 "You left Bayelsa and the shores of this country firstly to compete in the West-African Region and became champions of the region by representing our dear country of Nigeria, and represented the region in the CAF Women competition.
For the first time, you are the first club that has taken Nigeria to the semifinals of the CAF Women's Competition. Because of you, the name of the state in female football is larger being imprinted in the heart of Nigerians and Africans.
You have made your country proud, and Nigeria will stand tall when in Africa female football is talked about. We are not satisfied with the bronze, but we must start from somewhere, so on behalf of your state, the Prosperity Government, we say thank you.
Your government has decided to appreciate you as follows:
- All 21 players in the first team will be awarded N1 Million Naira each.
- The 14 reserved players will go with N500,000 each.
- The Technical Adviser will go with N1.1 Million
- Other coaches, N500,000.
- Support staff, N300,000
- N1.5 million for the Board Members.
- For the additional 2 goals that led you to win third place, you will have additional 4,000 U.S dollars.
- All the medical expenses of our injured player will be written off by the State Government.
The Governor also thanked Premium Trust Bank for their sponsorship of the team.