Nigeria's star striker scored twice as her Barcelona Feminine were too much to handle for Halimatu Ayinde's Rosengard in the Women's UEFA Champions League on Wednesday night.
Oshoala who just received her Pichichi award on Monday was in imperious form scoring twice in the space of 16 minutes to help the Spanish giants see off the Swedish side in their last group game of the competition.
Her goals in the 10th and 16th started the onslaught for Barcelona as they went on to win by six goals to nil against a Rosengard that was already condemned to the bottom.
She sent the ball into the bottom of the goal after finishing off a shot from Aitana that had crashed into the crossbar.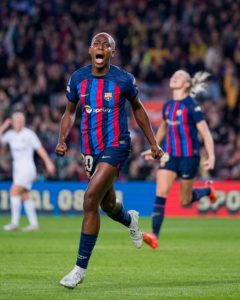 And five minutes later, the second came from the head of the same Nigerian. The striker came in with power to finish off a Mariona cross that ended up piercing the visiting net (2-0).
Mapi León made it three before half time, Rolfö scored the fourth in the 47th minute as Torrejón scored the fifth three minutes later. Paredes completed the trouncing in the 69th minute.
Oshoala was subbed off in the 81st minute of the game while Ayinde was a 60th minute substitute in the encounter.
Barcelona and Bayern Munich qualified to the last eight. They beat Christy Ucheibe's Benfica by two goals to nil in their last champions league game.
Barcelona who have same points as Bayern Munich finished first on goals difference.
By Uche Dozie