Nigeria Football Federation (NFF) president Amaju Mavin Pinnick has revealed that the body has extended its contract with Nike till until December 2026.
Pinnick said that talks with the renowned sport manufacturing company has been on for a month before the deal was struck.
"We talked about several areas they needed to look into, and we finally got a deal and extension of the contract until December 2026," Pinnick said.
"I give the credit for this to Members of the NFF Executive Committee and the General Secretary. The new agreement lends credence to NIKE's faith in Nigeria Football and what we are doing as a Federation."
"It is a wake-up call for our other sponsors and partners to extend their agreements and for more players in Corporate Nigeria to support the Nigeria game."
The outgoing president also made known that the NFF contract with the Nigeria Brewies has also been extended.
"We have also succeeded in getting our partners Nigerian Breweries PLC to extend their contract with the NFF by one year."
"Initially, their relationship with the NFF was due to end this year. We got talking and met several times, and finally, they agreed to extend by another year, after which they will perform a review of the relationship."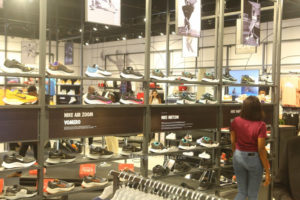 Meanwhile, the sportswear giants launched its flagship store in Nigeria at the Ikeja City Mall, Lagos. This is the first official Nike store that is opening anywhere in Nigeria, bringing the brand closer to the Nigerian market who might want to purchase Nike products.
Nike's African brand director, Indrek Heinmets on finally opening a store in Nigeria: "This has been in the works for about six years (bringing Nike to Nigeria), Lagos is a big market, and we are glad that we have come to Nigeria."