Series A league leaders Napoli have been camping in Turkey for a week now and are gradually having their top players return from injury.
One of such players is the league top scorer Victor Osimhen. The young striker accord to the team doctor suffered a "trauma to the lumbar region" which kept him out for close to a month.
With Osimhen's form this season, clubs like Manchester United is willing to offer over €100m euros to have the Nigeria international.
Napoli will cease every opportunity to show off the quality Osimhen possess even while in training as the Azzuri on Twitter put up a picture of the 23 year old in a short distance race with his teammates, adding the caption 'Goooo Victor'.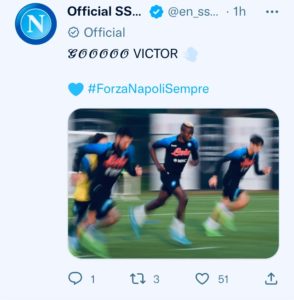 Osimhen this season scores scored 10 goals in 14 games, nine of which have been in eleven league matches.
Dare Ogun