Following Abia Angel's FC one all draw away from home against Confluence Queens of Kogi State, Coach of the Abia team, Ogochukwu Atube has commended his girls for their approach to the game on Wednesday.
The Aba Landladies after beating Robo Queens in match day one fell to a one nil loss against Ibom Angels and needed to get back on their feet in this match.
Mary Opara's header  had scored in the 24th minutes of play, but it did not last till the end of first half duration when Precious Obasi shot from 25 yards beat goalkeeper Sylvia Echefu to equalise for the visiting Abia Angel's team at the tail end of the first half.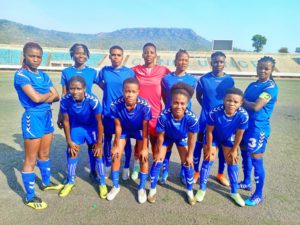 While speaking to the club media department coach Ogochukwu Atube of Abia Angel's fc spoke positively about the performance of the team.
"The players approached the game with a very tactical view we got a point which is very important while playing on the road from the blast of the first whistle here we saw how it all went but they showed positive mental alertness and got a very important point here today."
Abia Angel's FC end the year  with four points after three matches played and will be looking to get better when they host Adamawa Queens on the 4th of January, 2023 at Aba for the continuation of the NWFL Premiership 2022/2023 season.
By Uche Dozie