Manchester United have reportedly come to a verbal agreement that will finally bring Juventus forward Mario Mandzukic to Old Trafford. The club have been pursuing the Croatian player as far back as the summer transfer window, and if reports are accurate this time the deal should finally be confirmed on the 1st of January.
The addition of Mario Mandzukic to Manchester United's squad is expected to help the club to bolster their attacking options. It is an area Manchester United's Manager, Ole Gunnar Solksjaer has stated he wants to strengthen after the summer transfer window when both Alexis Sanchez and Romelu Lukkaku departed for Inter Milan without being replaced.
The move should help Manchester United to improve its aerial threat and header completion rate. Both have been disappointing for the club so far this season, and it has strung together 58 failed attempts to score from a header.
Details of the verbal agreement between Manchester United and Juventus are not yet official, nor are the terms of the transfer. It is almost certain that the final deal will be very different from the initial offer that was proposed during the summer transfer window.
During the summer it was reported that Mandzukic had turned down a deal worth 7 million Euros that would take him to Qatari team Al Rayyan. At the time the forward stated that it was because he wanted to continue to play in Europe.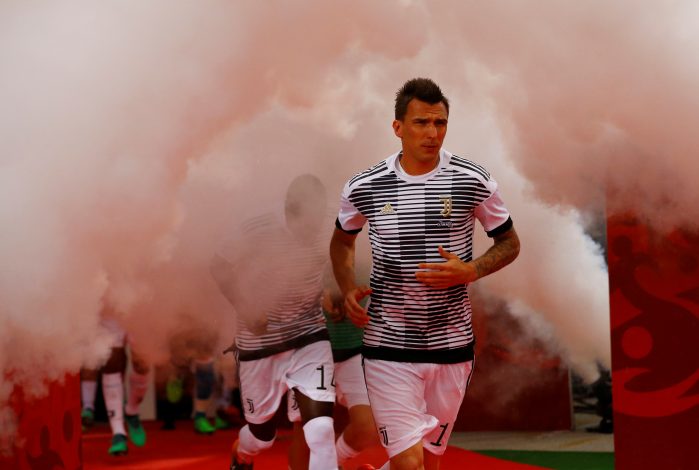 Subsequently it was speculated that a transfer to Manchester United was on the cards, and that the deal included Argentine forward Paulo Dybala too. However that transfer failed to materialize before the close of the summer transfer window.
As things stand Dybala is likely not going to be part of the deal this time round, and the player has stated he wants to stay at Juventus. Instead the club is hoping to either swap Mandzukic as part of a deal that would see both him and Emre Can move to Old Trafford while Paul Pogba returns to Turin. The Italian club may top up the offer to sweeten the deal.
Up till now Mandzukic has not featured at all for Juventus this season, and was excluded from the club's Champion's League squad. Similarly Emre Can is not part of the Champion's League squad either, and has been forced to largely play a supporting role with very few appearances.
At Old Trafford Pogba has had a poor start to the season, and his contract negotiations have stalled due. Although he is still on contract up to 2021, the club may favor a swap deal if they feel they won't be able to keep him beyond that and are able to improve key areas of their squad in return.
Right now Pogba is still out injured and is in the United Arab Emirates completing a recovery program in the hopes of accelerating his return. It is unknown when he is expected to return to the squad.
Although the addition of Mandzukic would undoubtedly be good news for Manchester United fans, it is too early to tell whether or not he'll be able to make a big impact. As things stand it definitely will not affect sports betting odds in a major way.
While news regarding the verbal agreement between Manchester United and Juventus seems to be accurate, it should be noted that there is still quite a bit of time to go before the transfer window opens. In other words there could be further developments that play a part in the final deal that takes place on the 1st of January.