Ethan Nwaneri is his name. Born to a Nigerian parents on March 21st, 2007 in England, he joines Arsenal at the age of nine.
At age 14, he was already playing for Arsenal's U-18 team. Started playing for the U-18 side during the 2022–23 season but his good playing form and style got him promoted to the U21 team immediately.
And at the start of this September, he was invited to the first team training, Mikel Arteta must have been impressed by the lad's playing style.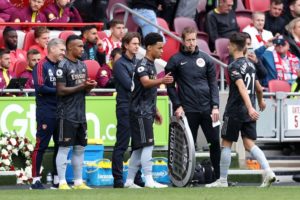 Definitely won't be expecting himself to feature for the first team so soon but against Brentford on Sunday, September 18,the 15-year-old boy made his debut for Arsenal, making him the youngest ever debutant in the Premier League.
In that one minute he couldn't show much, but he was still on the field for a while.
In the youth teams of England it is just as fast with Nwaneri. In February of this season, he made his England under-16 debut, for which he has already made six appearances. But in the past month, the Englishman has also played for England under 17 three times! He scored his first goal against his peers from the Faroe Islands.
And after all those good performances, he was rewarded against Brentford with a minute in Arsenal.
With that he broke the record of Harvey Elliott, who was the youngest player ever in the Premier League at 16 years and 30 days.
Nwaneri takes half a year from that: 15 years and 181 days. Good things come quickly, they say. Incidentally, the youngest Arsenal player in all competitions was Cesc Fabregas who was 16 years and 177 days when he made his League Cup debut for the Londoners.
Fabregas made his debut for Arsenal in the 2003/2004 season, the season that the team crowned themselves as The Invincibles in the Premier League.
Although has represented England on different age grade categories, Nwaneri by the virtue of his parents is eligible to play for Nigeria and who says that is not possible.
Still young though, but I think this is the best time authorities concerned in the country should start reaching out to his parents as well as the lad himself.
Who knows, playing for Nigeria might have been his long term dreams and approaching his family now won't be a wrong step for a future that will definitely be productive.
By Oluwayemi Omolagba