The Executive Governor of Rivers State has redeemed his earlier pledged of $20,000 to the State based club, Rivers United for winning the 2021/2022 Nigeria Professional Footballl League (NPFL) title.
https://twitter.com/RiversUnitedFC/status/1606338052321939475

— (@RiversUnitedFC) December 6, 2017
?s=20&t=ihY6KOYUA9iyk4rmBqOyow
The Commissioner for Sport, Rivers State, Barrister Chris Green on behalf of the first citizen of the State disclosed  the joyous news to the team of the club at their training ground  on Friday.
The beneficiaries of the reward are forty seven in number with players and the coaching staff all entitled to the money which amounts to N15,600,000.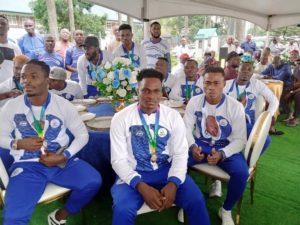 Barr. Green informed  the team that Governor Wike had called him the day before to intimate him that he wanted to redeem the pledge he made in July.
The Governor said "I want to redeem that promise and watch your progress" Green said.
He went further to praise the Governor for his magnanimity and unending support to the club, adding that "I am not even surprised because it's part of him; His Excellency the Governor of Rivers State, Barr Nyesom Wike is a giver.
"He has a ministry of giving, like I have always said you cannot meet him and go back empty that is the kind of person he is. He is so compassionate, he is so benevolent. I am saying it with all amount of responsibility, His Excellency never, for once stopped in the support of this team."
In his response, the club's General Manager on behalf of the Playersayers and Coaches thanked the Governor for fulfilling his promise and promised that the team will do all it's power to reciprocate the gesture by doing well going forward.
Rivers United emerged champions of the NPFL with 77 points after 38 matches, ten points ahead of second place, Plateau United.
Uche Dozie