Super Falcons player, Gift Monday has officially bid farewell to Robo Queens of Lagos after five and half years with the Lagos base club.
https://twitter.com/GiftMonday21/status/1601830196537073664

— (@GiftMonday21) December 6, 2017
?t=3ADeN6mrhVjWbQ0qqBUacw&s=19
The 21-year-old had signed for Spanish side, Union Deportiva Granadilla Tenerife in September, but had not permanently moved as she still played for Robo Queens up on till November.
The former Bayelsa Queens forward signed a three-year deal with the Spanish club and set to begin life in Spain.
She has since joined the club and she is released a picture of herself in training four days ago.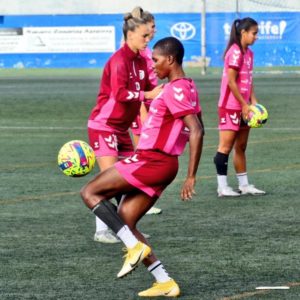 She won the African Games in 2019, a Nigeria Gift Monday Women's Football League Premiership winner three times, Turkish Women's Cup winner, Besty Onaseki Cup, amongst other individual awards.
Uche Dozie