Nigeria U-17 girls got their first win in their second game of the U-17 Women's World Cup holding in Goa, India on Friday.
The Flamingos eased pass New Zealand by four goals to nil to get their campaign back on track after their loss in the first match.
Amina Bello, Miracle Usani, Taiwo Afolabi and Etim Edidiong were all on the scorers' list to give Nigeria a resounding win.
The Nigerian girls did start well, controlling the tempo of the game and if not for a couple of missed chances, they would have taken the lead earlier .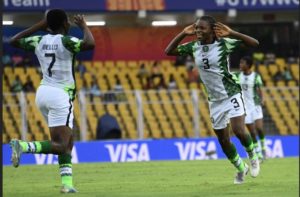 By the 17th minute, the goals started to come as Bello connected well to Adeshina's cross to inspire the girls to a great win.
The lead would have been increased minutes later, but the girl couldn't just bury the ball at the back of the net.
Goal scorer in Germany's 1-2 loss, Ubani changed the narrative in the 34th minute as she scored the team's second, as they left for the dugout with good spirit for the second half.
In the second half, the Flamingos never took their foots off the pedal, piling up pressure, but the story of missed chances persisted.
However, Afolabi made it count this time around in the 75th minute as she made it three goals to nil.
With huge confidence and good feeling hovering around the team, substitute Edidiong put the icing on the cake in 90 plus additional time to make it four goals to nil.
Flamingos striker Opeyemi Ajakaye was voted the Player of the Match in the win over New Zealand.
The girls from Nigeria will turn their focus to their last group game against Chile on Monday.