Former NFF President, Amaju Melvin Pinnick has appreciated the Mayor of Toronto, Mr Andre Dickens for his interest in the growth of football in Nigeria.
Pinnick, who is a member of the FIFA Council and CAF Executive Committee was the guest of the Mayor of Atlanta, Mr Andre Dickens on one of his business trips to Georgia and Toronto.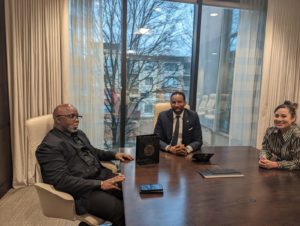 After the meeting, the former Delta State FA Chairman, in a statement revealed the discussions he had with the 48-year-old state administrator.
Pinnick disclosed that the discussion was on the premise of Toronto's preparations for the 2026 World Cup and Nigeria's historic feat in the 1996 Olympics.
"I was privileged to be the guest of the Mayor of Atlanta, Mr Andre Dickens as I embarked on business trips to Georgia & Toronto. Youthful, energic, resourceful, robustly intelligent and extremely passionate about Africa especially Nigeria, the former CAF Vice President disclosed.
"Our discussions among others bother essentially on Atlanta being a centre for the 2026 World Cup. Collaborations vis a vis build up & count down collaborations.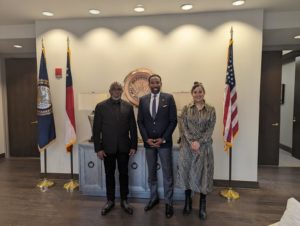 We reminded ourselves about the feats Nigeria recorded in the Atlanta '96' Olympics in football and long jump. Indeed Atlanta is home to Nigerians." He concluded.
Pinnick is the predecessor of the Nigeria Football Federation president, Ibrahim Gusau after being at the helm of the affairs at the Glass House from October 2014 to October 2022.
Uche Dozie