Bayelsa State Governor, Douye Diri have announced  the sum of ten million naira to Bayelsa Queens FC for winning this season's CAF Women Champions League WAFU Zone B Qualifier held in Ivory Coast.
In a visit to the Government House in Bayelsa which coincided with the state's 88th Executive Council Meeting, the governor announced the prize money to the team who are also winners of the Nigeria Women Football League.
Governor Diri commended the team for the feat and for making the state proud.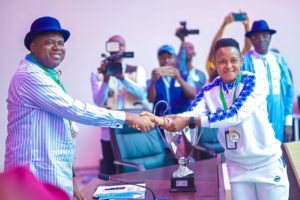 He charged them not to relent in training and that the victory should spur them to achieve greater laurels, which is going to Morocco to conquer Africa.
He directed that the monies be released to Bayelsa Queens Football Club within two weeks from his pronouncement.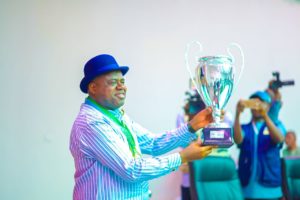 According to Governor Diri, "sports is no longer only a social activity but also a source of livelihood to those who engage in it and advised youths in the state (especially the girl child) to emulate the players by engaging in productive ventures instead of crime."
The Prosperity Girls made the state and nation proud after winning the WAFU Zone B qualify of the Women CAF champions league in their maiden participation qualifying for the main stage of the competition in the process.
The ladies scored fourteen goals in five matches winning four out of the five matches and drawing one.
The Queens start their campaign of the CAF Champions League from 30th October. The competition will end on 15th November, 2022.