Remo Stars FC captain and starman, Nduka Junior believes his side are in good shape and are ready to take on Ghanaian league champions Medeama SC come Sunday when both two West African clubs clash, Nigeriasoccernet.com can report.
Remo Stars and Medeama SC will be playing each other for the CEO first time in their maiden CAF Champions League campaign.
Speaking ahead of the game from the camp Remo Stars is captain Nduka Junior who believes his team will be too hot for their Ghanaians counterparts too handle in Cape Coast as they set their sights on progressing to the next stage of the CAF Champions League.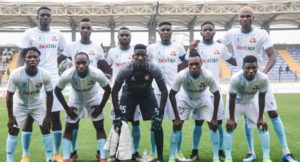 Remo Stars
"Nigerians should be expecting nothing less than a positive result against Medeama SC in Ghana. We are going there to win. We are not going there for a tour or to just feel the pitch and come back home. We are going there to win and we will definitely win, I am 100% optimistic about that. The game is just like an FA Cup final for us, so no second chance," Nduka said ahead of the Sunday's clash.
Nduka said the spirit in camp his high as they have been well motivated for the task ahead.
"Speaking about the spirit in camp, I must confess that the spirit is high. There is positivity all around, the boys are so relaxed. You know after this evening's training everyone is in their room relaxing, thinking about the game because each and everyone of us knows what is at stake. We have a pedigree to defend. The club crest is very important and we need to represent the country well also and I must we are very prepared for the game against Medeama SC in Ghana.
"There is a motivation from the chairman and the CEO for the boys," he concluded.
Medeama SC celebrating their 2022/23 GPL triumph
Meanwhile earlier this week, the Media head of Medeama SC, Patrick Akoto in his interview with us said his side know the enormity of the task ahead of them and will plot the downfall of the Nigerian side when they meet in Ghana on Sunday. He also said he knows
Remo Stars are rich but their wealth won't play the game for them on Sunday
.
Nduka captained Remo Stars to their maiden CAF Competition last season as they lost out 2-1 on aggregate to FAR Rabat of Morocco in the CAF Confederation Cup. He will look to help the team take a step further this time around as they target a place in the group stages of the CAF Champions League.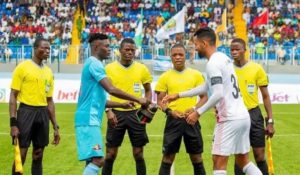 Nduka Junior captains Remo Stars against FAR Rabat in last season's CAF Confederation Cup game
First, they will have to navigate their way past Ghanaian league champions Medeama SC when they clash in Ghana on Sunday and a week after in Ikenne.
By Oluwayemi Omolagba