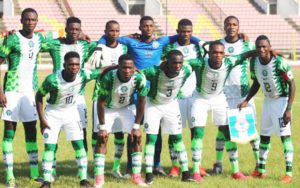 The Nigeria U-20 national team, Flying Eagles on Wednesday evening booked their place in the semifinals of the West Africa Football Union (WAFU) sub regional competition ahead of the CAF U-20 Africa Cup of Nations in Egypt in 2023.
The Flying Eagles were supposedly the 'host team' in the game and wore their traditional white jerseys.
The Burkinabes were also donning their white and green jerseys which were definitely causing confusions for the media and possibly the technical crew.
It was however corrected in the second half and the Eaes came out dressed in their green jerseys,
The Eagles gave away some passes and it will be interesting to know from the team if that affected the players in any way.
In their first game against Ghana, the Flying Eagles' buildup play was a joy to watch.
The team thoroughly dominated the clash against the Black Satellites but struggled to retain possession for long spells against Burkina Faso.
They gave away the balls more often and were indeed lucky not to concede a third goal from their opponents.
Unlike the Ghanaians, Burkina Faso had very physical players and that in no small way affected the delicate touches that the Nigerians boys showed against Ghana.
Ibrahim Muhammad, Ibrahim Yahaya, Daniel Daga Are Contenders For Tournament MVP
Two games have been played by the team and already there are bright spots in the team.
Midfielder Daga was the Man of the Match against Burkina Faso but it was also splendid performances by Ibrahim Muhammad, Ibrahim Yahaya who have both showed that the future is very assuring.
Mike Cookey