Nigeria's U-20 male national team have defeated Italy by two goals to nil to reach the quarter finals of the U-20 World Cup going on Argentina on Wednesday, Nigeriasoccernet.com reports.
The Ladan Bosso led team achieved a consecutive win after a dogged performance that saw them score two goals in the second half courtesy of Salim Fago and Jude Sunday at the Estadio Malvinas.
Prior to the match, the Italians looked favourite to win after their 3-0 win against Brazil compared to Nigeria's 2-1 win over Dominican Republic.
However, it was not as expected as the Flying Eagles set the ball rolling after the whistle that signalled the beginning of the contest.
It was Daniel Daga who gave the first attempt of the game in the 10th minute, but it did no harm as the target went wide.
Victor Eletu came close five minutes later, but his effort was saved by the Italian goalkeeper.
The young Nerrazurris almost caused a scare after their attempt hit the crossbar to the relief of the Nigerians.
Salim Fago ten minutes later came close to scoring, but his effort was saved by the goalkeeper.
Goalkeeper Chijioke Aniagboso at the dead of the half made a brilliant save to keep the scoreline goalless.
The Nigerian team continued with the momentum as they did in the first half as Jude Sunday almost put the Junior Eagles ahead in the 53rd minute after his effort was cleared off the line by the Italian defense.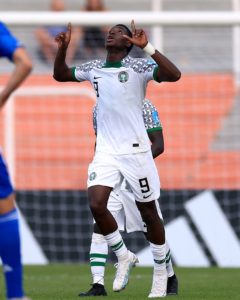 In the 61st minute, the goal finally came as Fago headed the ball from Umeh Emmanuel into the net to break the deadlock for Nigeria.
Nigeria kept the one-goal lead up until  the 90 minutes before Sunday doubled the lead at additional time to secure the win and a place in the knock phase of the tournament.
By Uche Dozie