Hammola FC CEO, COM. Odeyemi Muhydeen Oladele who is also the president of Osun State NLO clubs on Saturday morning sends his congratulatory message to newly promoted NNL side, Osun United, Nigeriasoccernet.com can report.
The CEO of Hammola group whose club also competed against Osun United in the group stages of the NLO season believed hard-work and determination from Osun United was the key ingredient for the success they've achieved so far while also urging them to continue until the main goal of NPFL ticket is achieved.
Quoting Les Brown, he said "Achievements are a result of hard work, determination and constant efforts with positive attitude. To achieve something that you have never achieved before, you must become someone that you have never been before."
"A battle has been won. The ticket has been gotten after a weeklong preparation, efforts and strategies
"We are grateful to God for the victory. The victory is not only for Osun United Family but for all of us. It's a good signal of progress. The light is shining and will continue to shine."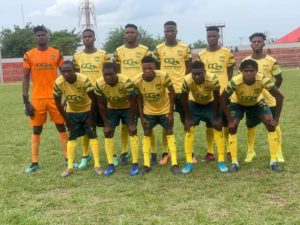 Hammola FC
"From all of us at Hammola FC, we join thousands of good people of Osun to congratulate the entire board members, technical crew, players and supporters of our dear team, Osun United on the well deserved promotion to the Nigerian National League (NNL)."
"The journey has just began. NPFL soon," he concluded.
Hammola FC finished 2nd behind Osun United in group E1A during the NLO groups campaign.
By Oluwayemi Omolagba