Form every time Nottingham Forest manager, Steve Cooper this season has claimed his striker, Taiwo Awoniyi is not fully fit to play, the Nigeria international has responded with a goal, Nigeriasoccernet.com reports.
Before the game on Friday, the coach had claimed Awoniyi needs time to reach full fitness just like he told the press before the opening game of the season, only for him to come in and score a goal.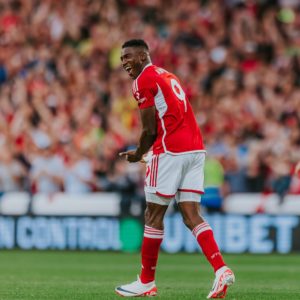 Just before the game entered into it full gear, the 26-year-old nodded home Sergier Aurier's cross in the fourth minute of the thrilling contest which Nottingham defeated Sheffield United 2-1 on Friday night.
https://twitter.com/NFFC/status/1692808625813688562

— (@NFFC) December 6, 2017
Awoniyi is now the first Nigerian to score in six consecutive Premier League games.
According to Opta, only Mohamed Salah and Emmanuel Adebayor who both scored in seven consecutive games are the only Africans that presently have a better run than Awoniyi.
https://twitter.com/NFFC/status/1692832322175873466

— (@NFFC) December 6, 2017
?ref_src=twsrc%5Egoogle%7Ctwcamp%5Eserp%7Ctwgr%5Etweet
The striker will now look to become the third African player to score in seven consecutive games when Nottingham Forest travel to Old Trafford on Saturday, August 26.
By Olujimi Dare Ogun