Pioneer gaffer of defunct MFM FC of Lagos Fidelis Ilechukwu has recounted in nostalgia how he tapped virtues that kept him going on the job from his lifetime mentor and spiritual father.
A wave of nostalgia fell over the 'Working One' whose carrier progression is huge and blossom at every point in time as he admitted of starting from nothing to something.
Ilechukwu, a hard-working gaffer renowned for turning raw talents to finished products served Olukoya Boys for 13 years before finally opting for a new challenge told top Football Forum, Family United By Football how founder of Mountain Of Fire And Miracle Ministry made his confidence to grow on the job.
"Yes, I will give it to Dr. Olukoya for believing in me, he is the best thing in the world to have ever happened to me. I call him an Oracle of God, a man of truth, his job is to bring something out of nothing.
"I remember one time I went to him and told him we need to bring big players at MFM FC, he told me you as a coach, where did you start?, We snatched you from no where, your job should be working so hard and make those that's nothing to become something, that they will never forget in their lives.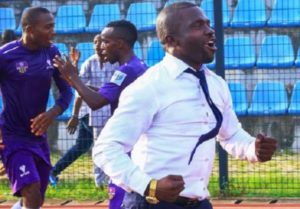 "Daddy gives me a lot of confidence, he gave me that chance and made me understand that even with grassroots players, MFM won't sink and won't complain about results, that confidence is what built me, Olukoya is the best ever, he prays for me always," Informed Ilechukwu widely regarded as 'The Working One'.
The former Plateau United tactician who is recently unveiled by Rangers lnternational, is however optimistic of taking his new side to promise land in the coming season owing to growing expectations and how hungry Rangers are.
"I am not under pressure to deliver, I am in a system I understand, I am even happy because of their ambitions. It is easier for you to win something if you have a management that is hungry for success, at this stage, I think a reluctant management won't help my image, I am happy at how ambitious Rangers are, the point is, Rangers is hungry, llechukwu is hungry, I know we will do our best and recruit rightly." The former Heartland boss stated.