"Dele attended one of the best schools in Lagos, Nigeria, was never sent to Africa for discipline," this were the words of one of his uncle in response to his earlier interview with Garry Neville, Nigeriasoccernet.com can report.
13th of July, 2023, Dele Alli granted an interview with Gary Neville for Overlap where he'd accused his parents for sending him to Nigeria as punishment and also accused his mother's friend if sexually abusing him at the age of 6 and how he began dealing in drugs as early as age 8. The interview generated global attention with football stars across the globe showing their support for the former Tottenham Hotspur player.
"Twelve, I was adopted and from then, it was like – I was adopted by an amazing family like I said, I couldn't have asked for better people to do what they'd done for me. If God created people, it was them" Dele told Overlap.
However, things took another twist as family member revealed to OJBSports claiming Dele Alli was never adopted and that he also attended one of the best schools in Nigeria contrary to the statement he was sent here as punishment.
"Dele was never adopted by anyone. At age seven, Dele attended one of the best schools in Lagos, Nigeria. He was never sent to Africa for discipline. That's a blatant lie. He had a driver that picked him daily from school.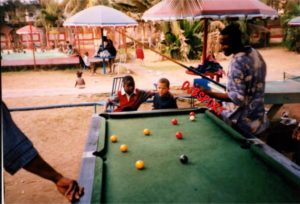 Dele Alli and Dad in Nigeria
"We have all the documents and pictures of Dele with his dad from when he was born as a kid. Dele has been brainwashed." said the family member.
Explaining Dele Alli's journey to Nigeria, the story reads:
Born in Milton Keynes, England on the 11 of April 1996. Dele's mom, Denise Alli had two daughters – Barbara and Becky – from her previous relationship before meeting Dele's dad – Kenny Alli. They broke up three years after Dele was born.
Kenny is a tech engineer. He met Denise Alli in a nightclub in the UK during his academic days. He got his Master's degree at De Montfort University. After his academics, Kenny returned to Nigeria with Dele at age seven.
"We went to the UK from Nigeria with academic qualifications. We had to struggle, and I can tell you we are one of the pacesetters in IT in the UK. After finishing his Master's, Kenny returned to Lagos.
"Kenny used to take Dele everywhere in Nigeria. We worked very hard to be who we are today. Nobody took him to Nigeria as punishment." the family member revealed.
While in Nigeria, several years later, Kenny remarried a Nigerian American – Omotola Alli. Kenny and Omotola decided to relocate to the United States after their marriage. Dele was 11 years old then.
"Kenny decided to take Dele to the mom in the UK, in anticipation that he will come for him when he settle in the State." said the family member.
Speaking further, the family member narrated how Dele ended up with the Hickford's family at age 13.
"Dele has always been a lover of football from birth. He was targeted by the Hickford's family. Hickford Allan and Sally and their son Harry ( used to be Dele's team mate and now his agent)."
The Hickford's son, Harry and Dele both began their career with MK Dons, while Dele became a professional footballer, Harry did not make the cut.
Harry's parent – Sally and Alan use to take Dele and Harry to the training session and drop Dele at his mom's house after training.
The report states they became so close to the point that Dele began to sleep over at The Hickford's house. This was due to the closeness of their house to MK Dons training center, where Dele was training 5 times a week, he returns home on weekends.
"It has been said that I was suffering from alcoholism and I gave him up because I couldn't look after him, but that is a lie. I wanted to give him the best chance of achieving his dream, but he was still my son and I was there for him whenever he needed me," the story continues.
"On a particular Wednesday, Dele's mom called Kenny that the Hickford family didn't drop Dele as usual. Said the family member.
"Kenny immediately called the Hickford's resident and they pleaded with Kenny to allow Dele spend the night with them, because they have a comfortable place and their son is good friends with Dele.
"Kenny agreed – not knowing the Hickford's had a plan all along. Along the line, it now became every Wednesday affair. That's how they started grooming him (Dele) to whatever they are doing.
"He was never sent to Nigeria for punishment. He said he started doing drugs at the age of eight, whereas he was in a private school in Nigeria by then." The family member concluded.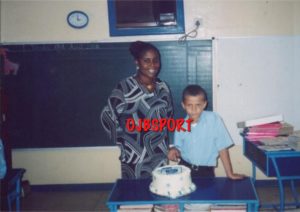 Dele on his 8th birthday at Avi-cenna International school. Ikeja GRA Lagos.
Things definitely not going well with Dele Alli at the moment and his football career kept dive-nosing and although his former Spurs boss Mauricio Pochettino promised to help him revive his career, things might just get messy for the 27 years old.
By Oluwayemi Omolagba
Pictures credit: OJBSPORTS