Napoli boss, Rudi Garcia has revealed what he told Victor Osimhen at halftime of their league opener against Frosinone on Saturday, Nigeriasoccernet.com reports.
The Nigerian striker netted a brace in Napoli's 3-1 win but Garcia wasn't entirely happy with his performance, especially in the first half.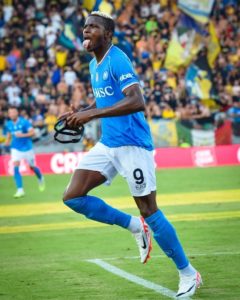 "Offensively, he was excellent, he scored two goals and there is nothing I can tell him," Garcia told DAZN via Footballitalia.
"Defensively, I didn't like him at all and I told him during the break. He used to press more and defend better in the past. We changed this thing in the second half and we played with more quality.
"I knew he was not fit to play 90 minutes, but we waited for his second goal," continued Garcia.
"He is a leader and this will never change, it's his strong point."
Garcia replaced Luciano Spalletti who resigned from his position after delivering the Scudetto for the Patonepei with Osimhen being the league top scorer and best striker of the season.
By Olujimi Dare Ogun