Not the best of start for Chuba Akpom since his summer arrival to Ajax as his search for a first goal and first win for his new side continues and not much to be wary off given the team's inconsistencies in recent times after exit of key players.
Winless in two games prior to the visit to FC Twente, Ajax suffered an excruciating defeat on Sunday afternoon losing 3-1 in Enschede with Brian Brobbey scoring the only goal for the Amsterdam side at the De Grolsch Veste stadium, Nigeriasoccernet.com reports.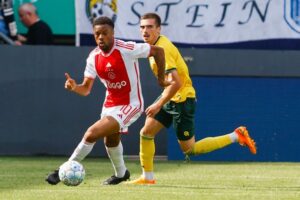 Following the defeat, Maurice Steijn couldn't hide his frustration and disappointment of how the game plan didn't work.
"The intention was that either the left or right wing should go forward and that Bergwijn or Akpom should then position themselves on the inside. Clearly, that didn't work."
"That is what frustrated me the most. Obviously things might go wrong because we have new players but there was just a lack of sharpness and I think that is very poor. Clearly this is a very bitter defeat," he lamented.
Steijn deployed Akpom as a right winger, despite the player's preferred position as a number ten. But that is a role the coach has already reserved for Dutch midfielder Steven Berghuis.
Steijn clarified, "We trained for that this week. I'm still looking on that right side because I would like to have Berghuis at 10 to get the football into the team. As soon as he got involved with the team and got involved in the game, we started playing football.
"So that's not the discussion for me. We had hoped that things would work out better today with Akpom, who actually had to play as a kind of second striker. But he didn't come there enough."
Ajax's next fixture is against French side Marseille in the UEFA Europa League on Thursday. Akpom will aim to redeem himself and prove his worth to the Ajax faithful and fans.
By Olaleye Oluwadamilola